The 20 October 2018, The General Consul of Panama in Marseille, Mrs. VIRNA J. AYALA F. represented the Consulate and participated in the Conference presented by the ex-judge JEAN-LOUIS BRUGUIÈRE on his last publication untitled "The ways of terror".
This legendary judge is the authority in matter of terrorism, because he has administrated justice in some of the most emblematic processes which has shaken up France because of the terrorist attacks in recent years.
During the conference he presented new, not published, information on the threats in West and the errors our democratic system fronts, due to individuals who are not afraid to die in name of their faith nor the laws.
We propose to read the report from the conference, written by Mr. JOSE D'ARRIGO.
Bruguière terrorise les terroristes
On the photo from left to right, Mister STÉPHANE RAVIER, Senator of Bouches-du-Rhône, Madame Consul VIRNA AYALA, Judge JEAN-LOUIS BRUGUIÈRE and et Lieutenant Colonel CONSTANTIN LIANOS, President of the Association of former combatants of Foreign Legion Marseille-Provence, whom the Consulate must to grateful the invitation and the honor of share with them.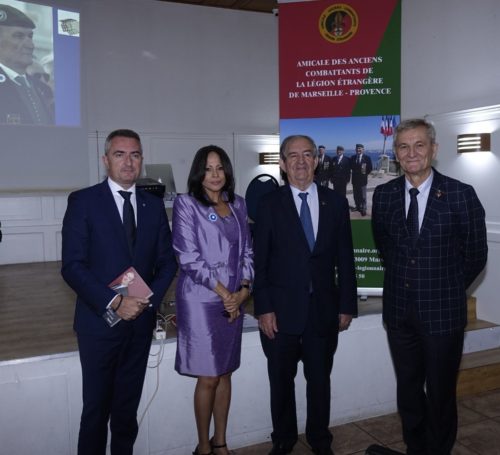 We would like to share with you this video as a contribution to reveal and motivate the reading of the work "Las Vías del Terror", written by him, so that the information that Judge JEAN-LOUIS BRUGUIÈRE has, his vision and the solutions to the problem of terrorism, as a tribute for all victims who have died, their orphans, widows, family, friends, wounded and mutilated in France and around the world, as a result of this senseless violence, that only cause terror.
https://www.youtube.com/watch?v=HrgR-T2wkGk
We created this YOUTUBE video to share this experience with all who visit the website of the Consulate of Panama in Marseille, which we hope you share on your social networks and if you like it, don't forget to give a LIKE.